Herbalism and desire
Herbalism and desire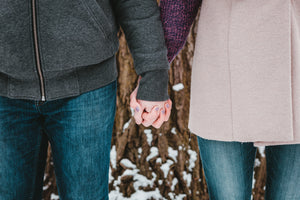 An aphrodisiac is a substance capable of arouing desire. In herbalism, certain plants (and essential oils in aromatherapy) can be useful by their actions, among others on blood circulation. For Valentine's Day, full fire on these plants that warm up the senses!
To increase desire, heat and good blood circulation are important assets. Hot plants and circulatory tonic will therefore be the first allies to turn. We can also look for plants or foods rich in zinc, potassium or magnesium, which promote testosterone levels in humans and progesterone in women, in addition to reducing stress. Add to that smell, which makes us travel, souvenir and love by recognition, in the case of desire, suave aromas of the human body in a state of excitement. It may be very simple to enjoy essential oils with warm and muffled background notes, inhalation, diffusion, in a massage candle or in a massage oil. Add to that a more fruity note such as citrus zest essences that have invigorating and tonic circulatory actions.
Do you or your partner run out when it comes to passing under the duvet? There are plants to stimulate you, but you will first have to analyze the situation in a global way and avoid seeking to treat a symptom outside of its context. There is no point in taking on aphrodisiac plants without addressing, for example, a stress problem or fatigue due to work overloads.
Here are some plants well known for their effects on libido. Choose the one you like the most, the taste and the smell being essential factors.
Fenugreek
Trigonella Foenum-Graecum
Fenugreek seeds are recommended for appetite losses, muscle mass losses, lack of vitality and kidney fatigue.
Fenugreek is considered a natural alternative to viagra ©. It is also known to give volume to the buttocks and the chest (oral intake and massage with theCarrier oil).
Oil to firm the buttocks and chest
95 ml fenugreek oil
5 ml soft fennel essential oil
Condition everything in a 100 ml glass bottle with pump.
Massage the breasts and the buttocks (always up) every day for several months.
Contraindicated for pregnant and breastfeeding women.
The presence of phytoestrogens in seeds stimulates the synthesis of sex hormones both in humans and in women (direct effect on sexual health).
Attention ! Fenugreek stimulates women's libido, but also their fertility. He is contraindicated during pregnancy.
Oral track: 3 to 6 g of Fenugreek seed powder or 4 to 9Format capsules 00 per day.
Ginger
Zingiber pharmacy
Ginger is recommended for theAnxiety, lack of concentration, latent depression, contained emotions, frigidity, helplessness, mental inhibitions, overwork and stimulates creativity.
 Internally, ginger has a vasodilator effect which has an impact on the genitals of women and man. It increases blood influx and strengthens erection and increasing sensations during orgasm. The ginger is hot. Dried it is drying, but fresh it is humidifying, ideal for Madame's mucous membranes.
Consume 2 to 5 g of powder per day or consume fresh at the rate of 10 to 15 g per day. Note that it is possible to confirm ginger for a little treat easier to swallow.
Ginger capsule to stimulate desire
35 g ginger powder
Fill the capsules using a manure.
Take 1 capsule, 3 times a day (is about 2 g per day)
Ginger essential oil is rich in tonic molecules such as zingiberne and arylalcanes. We can then inhale the essential oil directly to stimulate desire. In a inhaler, place 4 to 12 drops of essential oil on the wick Absorbent and take some deep breaths about 30 minutes before your naughty projects.
Ylang-ylang essential oil
Canada Odorata SPP.
We use Ylang-ylang essential oil In case of stress, nervousness, anxiety, insomnia, frigidity, abundant vaginal losses as well as to increase euphoria and activate desire.
Ylang-ylang acts as much on the mental body as on the physical body. He is a powerful anxiolytic.
If you are struggling with stress, the inhalation of essential oil from Ylang-Ylang allows you to calm without making amorphous. This essential oil awakens the senses.
Use an essential oil or diffuser inhaler and breathe volatile oils for 2 to 5 minutes.
By skin, relaxation will be as physical as they are mental. Add 5% ylang-ylang essential oil to a Carrier oil From Jojoba to create a massage oil with floral and exotic aromas.
Massage oil at Ylang-Ylang (250 ml)
240 ml Carrier oil jojoba
4 ml Ylang-ylang essential oil  
3 ml Essence of sweet orange zest
3 ml vanilla flavoring
Sandalwood essential oil
Santalum album
Sandalwood essential oil is recommended for circulatory disorders, anxiety, stress, overwork and inflammatory pain.
The essential oil of sandalwood, rich in alpha-santalol, helps to soothe the organism while toning the body. Calming and relaxing, this essential oil is ideal for relieving the symptoms linked to stress, anxiety and overwork. It also stimulates libido.
Use an essential oil inhaler or a diffuser and breathe the volatile oils from 2 to 5 minutes.
Aphrodisiac bed mist
120 ml sandalwood hydrosol
Condition everything in a bottle with fogger.
Spray on sheets and pillowcases.
 If you are fortunate to get your hands on a piece of sandalwood, you can use it in fumigation, because the smell is sublime!
True cinnamon essential oil (bark)
Cinnamomum verum 
 Cinnamon essential oil, hot and suave, is well known for stimulating libido and helping in the event of male helplessness, fatigue, lack of appetite, bad breath and gingivitis.
 Its tonic and stimulating properties can be used over a short period for states of physical or sexual fatigue. Cinnamon essential oil restores vigor and sexual appetite. It warms the muscles and locally increases the blood flow.
 The use by skin will be required, although we can take a drop in theCarrier oil Orally to give yourself a little boost.
 Attention ! Cinnamon essential oil is dermocaustic, so it is important to respect the recommended quantities and take a test on a small part of the body before applying large surfaces. The maximum dosage recommended for the skin application (never on the face) is often 5%, but as a precaution, we advise not to exceed 2-3%. If you have sensitive skin, decrease the 0.5%dosage. For hypersensitive skin, simply avoid cinnamon.
Sex tonic oil
4 drops Ceylon cinnamon essential oil (bark)
4 drops Black pepper essential oil
5 drops fine lavender essential oil
100 ml Carrier oil fenugreek Or Other of your choice
 On the lower abdomen, apply the oil for 30 minutes before moving to the love games.
Wash your hands after!
Do not exceed 14 days of application immediately.
Contraindications of the essential oil of oral cinnamon:
Drugs likely to potentiate the risk of hemorrhagic (aspirin ©, anticoagulants, blood fluidifiers), treatment against diabetes (hypoglycemic) and hypotension (hypotensive). Caution externally also with these conditions.
Rose essential oil
Rosa X Damascena
The rose is a tonic that helps in case of anxiety, anxiety, latent depression, frigidity, nervousness, stress and overwork. She calms strong emotions.
The rose is a sexual stimulant. It is the symbol par excellence of love and it is not for nothing that we offer it to the elected representative of our heart or that we like to receive it.
 The compounds of rose essential oil, in particular those responsible for its smell, would act at the hypothalamus, producing a general, neurotonic and slightly aphrodisiac effect.
Roll-on " Through rose-colored glasses "
5 ml Oil Damascus rose essential diluted at 5% (sold as such)
95 ml Macerated oil rose
1 to 2 drops of Grenadine red coloring
Condition in a ball bottle Roll-on And use as a aphrodisiac perfume.
There are several other essential plants and oils that can stimulate the desire, including macha, cloves, black pepper, ginseng, guarana, sage, passiflore and cocoa to name a few. And never forget that to have a sexual appetite commensurate with your expectations, you must feel good, then be in a physically and mentally fit.
We wish you a lot of fun!