What sowing of medicinal plants to prepare for the garden?
What sowing of medicinal plants to prepare for the garden?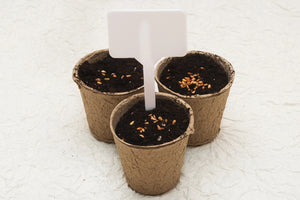 Already, from February, it is time to start certain sowing, or at least to get them to be ready for March and April. On the websites and on the bags of seed distributors, you find all the indications on sowing to prepare them well (moment, transplanting, spacing, etc.)
Here are three examples of seeders in Quebec whose seeds are of exceptional quality:
Les Jardins du Grand Portage : semencesduportage.com
Les Jardins Vie La Joie : vielajoie.com
Les Jardins de l'Écoumène : ecoumene.com
It may be your first medicinal plant garden and you wonder what seeds choose.
 Here is our "top" 5 of medicinal plants to prepare in sowing.
 Arnica (Arnica Chamissonis)
Perennial
Yellow flowers
Stratification 2 months, then sowed in early April-May
Germination 10 to 60 days
Flowery at the end of summer
Indication : muscle pain in

external only
Arnica is relatively easy to go in sowing and is easily installed in the garden. We offer American arnica, more suited to the Quebec climate. It has the same properties asArnica Montana, it is just smaller.
See our products:I'Macerated oil arnica
Calendula (Calendula officinalis) 
Annual
Orange flowers
Sowing in April for solid plants from the start of summer
Germination 5 to 10 days
Flowering 8 to 10 weeks after sowing
Indications : skin care and lymph circulation
Calendula is a must in the garden. Easy to cultivate, it is a generous plant whose flowers can be harvested 2 to 3 times in the summer. Its seeds are large and is easily reached by itself.
See our products: Calendula flowers, Calendula hydrosol, Macerated oil calendula
Roman chamomile (CHAMAEMELUM Nobile)
Annual
White flowers and yellow capitules
Sowing in early May
Germination 10 to 15 days
Flowering from mid-July
Indication : calming, digestive system, skin
 German chamomile is not always easy to cultivate (its stems are so delicate that they are easily sag) and the seeds are very small, then the young fragile plants. You will have to be careful when transplanting. The idea is to sow directly in the garden after the first gels, but in certain cooler regions as in the Laurentians, you will have to leave sowing inside if you really want to enjoy it for summer. Roman chamomile has the same medicinal properties significantly and is easier to go in sowing.
See our products:Chamomile flowers, German chamomile hydrosol, Macerated oil chamomile, Hand & feet cream base, Roman chamomile essential oil
Marshmallow (Althea officinalis)

Perennial
Rosé white flower
Sowing in early May
Germination 10 to 30 days
Flowery all summer
Indications : mucous treatments
The marshmallow is the ultimate emollient. The first years, to avoid killing the plan by collecting the roots, you can use its leaves and flowers. It is a plant in height that we will have an interest in placing behind in the garden.
See our products: Marshmallow stick - Qc Quality, powder Marshmallow stick - Qc Quality
Lemon balm (Melissa officinalis) 
Perennial
Lemon aroma green leaves
Sowing in mid-April
Germination 7 to 12 days
Flowery the 2eyear
Indications : nervous system, digestive system
The lemon balm, it is said, gives joy! It is a wonderful herbalist plant and it spreads quickly in the garden (you will find small baby plants here and there from the 2e year). Aromatic plant which gives little essential oil, but therefore the lemon aroma is very invigorating.
See our products: Lemon balm, Lemon balm
Marie-Christine Vallières