To be herbalist and to make it a profession, yes it is possible!
To be herbalist and to make it a profession, yes it is possible!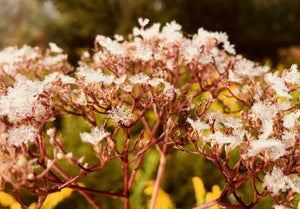 I want to share with you an answer given to a group of herbalism. If you feel
the call of herbalism,
But that you are told that it is neither known nor paying, let me write to you this.
Herbalism is not recognized in Quebec, but it is in Canada and we are tolerated in Quebec, like the Osteo, like the Naturo, etc. The Quebec government and the college of doctors do not recognize herbalists, but
schools
Who request it can be accredited by Revenu Québec (a little contradictory, but good), which is why we can issue tax receipts for tax credits (tuition fees have changed their status for a while) and Sell ​​training without tax. Insurance, on the other hand, "recognize us", not always obvious, but we have more and more contacts and a diploma has value for them.
Personally, I quickly worked in the field, I diversified: consultations,
selling products
,
education
... Today, I am a single -parent mom of two children and I make us live with herbalism.
During confinement, sales exploded. In times of crisis, this area is growing quickly and, even in normal times, more and more people are turning to herbalism.
In management, it is often said that it takes around 5 years to build its customers. Living that consultations takes time, but selling natural products, if we use our networks and we target a local clientele, it goes fast. The sale of natural products (therapeutic) is complicated in stores (operating permit = conforming place of manufacture, etc.), but Health Canada allows the sale of PN by a health specialist (herbalists appear on the list with the phytotherapists) as part of a consultation. Consultation as such has not been defined (there are several gray areas in law). You can sell directly to a customer or other therapists, who will sell them directly to their customers. For
Cosmetics
, it is simpler (provided you do not have dosage or therapeutic allegation), just fill out a form for each product on the Health Canada site, natural cosmetic section (reception of a cosmetics number, But it is not an approval or a permit like PNs, just a "OK").
I have several students who start selling their products very quickly (it starts with friends, family, neighbors ...). It's important to
courses
To offer quality, effective and safe products (there are a lot of DIY and online amateur blogs, interesting for those who make for them at home, but for sale and to be professional, it takes more than That, out of respect for the field and its customers).
Everyone does not know what a herbalist is indeed, but it is more and more known (return to basics) and it is up to us to make our beautiful job known. The more we will be, the more known it will be
You must be independent, organized, determined and motivated. A student said to me recently: it is a lifestyle.
So much !


For
schools
= Different schools for different people, shop them to find your happiness. For the associations, the ANN accepts just about everything. A must: become a member of
The herbalist guild
(everyone here should be gang !!) to encourage the field, meet, be kept up to date, share, etc. The pro wing which accredits the therapists accepts the courses with diploma or diversified courses (several schools, self -taught work, etc. You have to prove yourself of course).
We become a herbalist to earn a living, but also to take care of ourselves and those around us and because it fascinates us and nourishes us. We should all have herbalist lessons at the small school
But it is never too late to start.
Follow your heart !


Marie-Christine Vallières, herbalist and manufacturer
Marie-Christine Vallières